NVMS7000 software for security cameras. The hardwired system for our security system works just fine, but to view on an individual PC using the client software, NVMS7000, it crashes after 8-10 minutes on both an operating system of Windows 7 and an operating system of Windows 10 on a brand new PC with tons of memory, RAM and speed. Download NVMS7000 for iOS to updated with exciting capabilities, the new version 4.4.0 NVMS7000 software gives you instant Live View and Playback access using your smartphone. NVMS7000 Live View & Remote Playback 1. Download the NVMS7000 2. For the first time run, please select the Region first.
NVMS for PC and Storage Server
1. Install NVMS Client & Storage Server (both)
2. After install completed, run the Storage Server. You should see two icons in your Systray section. Storage Server and WatchDog are both required.
3. Right click on the Storage Server icon from the Systray icon
4. Local Config, you can define this storage server password (default 12345) and Port#.
5. AutoRun, AutoRun storage server after Windows Login.
6. HDD Quota Settings is not important in here, but you can change it if needed.
Run NVMS7000 Client Software
1. After you create master user and login, go to Control Panel -> Device management
2. Then, go to Server Click + Add New Device Type
3. Select Storage Server, click OK
Add Storage Server into NVMS7000
1. Click Add Device
2. Add Storage Server IP in here
3. After you add it, you should see server is ready, check Net Status
4. Highlight your server again, click Remote Configuration
Define Storage Server HDD
1. Go to Storage -> General
2. Select the HDD you want
3. Click Format, it will create many video files based on your Quota setting
4. Your Storage Server HDD setting is complete.
Define NVMS Record Schedule to Storage Server
1. Make sure you have DVR/ IP Camera in the Encoding Device List.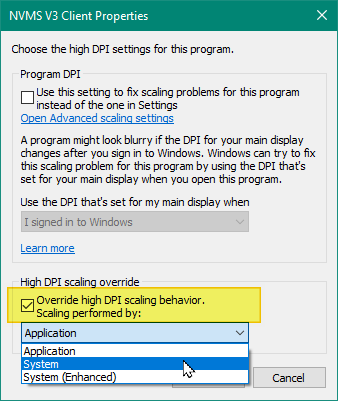 2. Then, go to Tool -> Storage Schedule
3. Select IP Camera from the left.
4. Select Storage Server
5. Check Record Schedule
6. Choose Time Template
7. Select Edit to modify the schedule
8. Save when finished.
NVMS7000 Playback / Download from Storage Server
There are 2 ways to download/ playback the video file from the Storage Server.
Download file from the Storage Server
Direct Playback from the VS Player
1. Download video file from the Storage Server. Go to Device Management -> Storage Server
2. Highlight Server, then Select Remote Config
3. Go to Storage -> File. Select Camera and Define Date/Time. Search. Select file you want, Download
4. Select folder you want download to. Then, Download
5. After download it, you can use VSPlayer to open it. For Windows Media Playerdownload codec
1. Use VSPlayer play directly from the Storage Server
Pro: Easy play video without download
Cons: Cannot specify the time you need
3. After installed, you should be able to view the VSPlayer icon on the desktop
4. Use Open file, to open signal video file
5. Open Directory, you can load a video folder.
6. Use Open Directory to open Storage Server directly
7. Select Storage Server drive, click OK
8. Then, play the file form VSPlayer
1. Use VSPlayer play Download Video file form the Storage Server
2. You can drag and drop the video file to VSPlayer
Note: Drag and drop won't work first time using the VSPlayer. Close the application and reopen it for drag and drop to be supported
Nvms 7000 Download For Pc
3. Identify the video file date and time with watermark
Nvms7000 For Pc For Windows 10
4. Right click on the video section. Go to Image Control -> Watermark.
Nvms7000 Troubleshoot Remote View
Nvms7000 For Pc Download
Categories: Knowledge BaseGeneralIP CamerasHD-TVI CamerasNetwork Video RecordersDigital Video RecordersOther
Nvms7000 Download Windows 7
Overview
Gain instant remote access to your Network IP cameras using NVMS7000 V4.4 mobile software for Android OS (version 4.0 or higher). The free network video management system software enables you to effectively monitor IP cameras at anytime from anywhere from your mobile device. The latest version allows support device backup and restore in batch by QR code, support fire source detection, behavior analysis, ship detection, and temperature measurement for thermal camera. Preview up to 16 Channels in real-time, swipe for PTZ control and camera management, support preset activation and configuration, and calibration for brightness, snapshot support. End-users can also manage up to 100 sets of devices, including adding / deleting / modify profiles.
Notes:
1.Wi-Fi, 3G or 4G access service must be supported by the phone.
2.Network traffic charges may be produced during the use of this client software. Please refer to the local ISP.
Resolution Support
Phone: 320*480, 480*800, 480*854, 960*540, 1280*720, 1280*800,1920*1080
Note
1.The live view effect is related to the performance of the network and phone hardware. If the live view is not fluent or the screen appears blurred, please reduce the resolution, frame rate and bitrate of the camera, or decrease the image quality in the software.
Comments are closed.